Une nouvelle mise à jour du jeu Les Sims 4 est disponible ! Parmi les nouveautés apportées on notera l'apparition de nouveau contenu sur le thème des Caraîbes (c'est de saison !) : 3 nouvelles coupes de cheveux, une barbe, 2 hauts pour simettes, deux t-shirts, un sweat, un costume, des sandales, un rouge à lèvres, un fard à paupières et un eyeliner. Si vous préférez la construction plutôt que la création de Sims, vous allez pouvoir profiter de l'arrivée de quatre portes coulissantes et un ventilateur pour plafonds (qui tourne bel et bien !). Comme ce n'est jamais fini, vous allez aussi recevoir un nouveau papier peint et une table.
Du côté des correctifs, le problème avec les captures écran qui étaient floues est corrigé. L'ensemble des nouveautés sera présenté en direct par les SimGurus ce soir à 20h !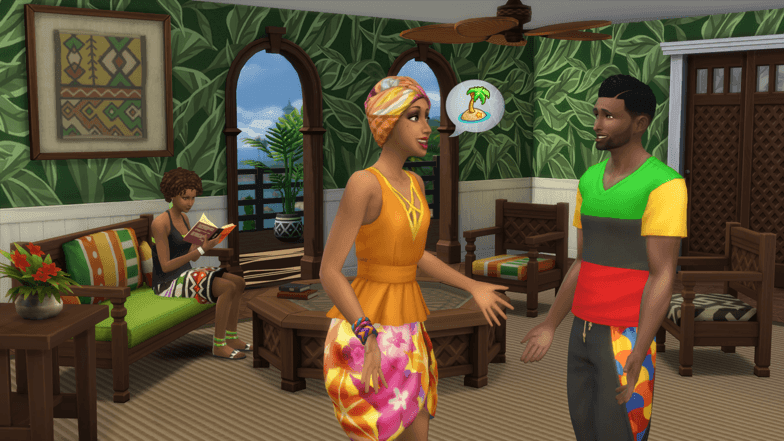 On notera également une annonce à propos de la galerie, les créations seront de nouveaux triées par défaut par date dans une prochaine mise à jour (le tri par défaut était devenu "Par popularité" depuis le dernier patch).
UPDATE: 08/16/2018 – PC 1.46.18.1020/ Mac 1.46.18.1220

Hey Simmers!

Summer will be over soon, but that doesn't mean we can't celebrate the warm weather with some free content for the community. The Sims community is truly global, which means we have so many fun stories to tell with events like Diwali, Day of the Dead, and more. Through our Sims' clothing, furniture, food, and activities, we are trying to celebrate the diversity within our community.

With summer in full swing, we shifted our gaze towards the sunny Caribbean and its vibrant, colorful clothing and styles. With Carnival taking place throughout the region, we took inspiration from the traditional patterns to craft some hip, modern clothing for your Sims to wear to a party, or perhaps the last picnic of the summer.

In this pack you'll find three new hairs, two of which have beautiful curls & textures! There are also numerous new clothing assets, some makeup, and even a little furniture. We should mention that it includes a ceiling fan and sliding door…

Check out the new assets, tell us what you think, and be sure to share your stories and creations in the Gallery!

Now for this month's patch notes.
Grant Rodiek, aka SimGuruGrant

The Sims 4

Screenshots taken using the C key are no longer fuzzy. We had some schmutzle on the lens we had to clean off.
There are now three new hairs, as well as a head wrap.
In case you are looking for even more hair, there's a new stubbly beard!
There is an abundance of new clothing! We added two feminine tops, two skirts, snazzy sweatpants, a new suit, and some sandals. And if you can't decide how to set it up, there are new Featured Looks to kickstart your ideas (one male, one female).
Can't we makeup? There are new lipsticks, new eyeshadows, and new eyeliners.
There are now four sliding doors.
There is now a ceiling fan, in case you were curious about that breeze.
We have added a new wallpaper – look for its leafy goodness!
There is a new coffee table, potted plant, living chair, loveseat, and painting.
We fixed an issue where thought bubbles would overlap and never go away. It should be fixed now, at least, that is our thought. Bubble. Get it.
The word "Queer" is no longer banned by the profanity filter. As language evolves, it's important we stay on top of these things, so thank you for the feedback.
The Walls Down and Cutaway View options function as expected if an additional active Sim is added to your household when visiting an NPC home.
Two Sims can no longer try to pick up/wrangle a toddler at the same time.
Family Trees should accurately represent a Sim's lineage now with non-blank thumbnails.
Build Mode and Gallery music will no longer collide for dominance. We accidentally introduced a bug that was more or less the worst version of Battle of the Bands.
Expansion Pack, Game Pack, and any Stuff Pack fish types now count towards the Collect 20 Types of Fish goal from the Angling Ace Aspiration.
You can now live-drag microphones and place them in a Sim's inventory.

Get to Work

Employees now deduct funds when restocking, so it's no longer free. But also, the cheaper restocking perk now works for employees. We giveth, we taketh away.

Romantic Garden Stuff

The Wishing Well now gives you a soulmate with the gender of your Sim's romantic preference.

City Living

Sims walking around San Myshuno now act like it's cold outside, or hot, as you'd expect, if Seasons is installed.

Seasons

Sims now dress appropriately for the weather to mourn.
Sims conducting athletic activity like basketball and jogging will no longer freeze to death. Sporting is once again safe.
If you have Laundry Day Stuff, seasonal clothing changes won't generate so many clothing piles.
There was an issue where Sims you created, but weren't currently playing, would be affected by weather, and therefore might immediately freeze to death when trying to play them. This seemed like a poor way to play The Sims, so we fixed it.

Miscellaneous

Various Text and Translation changes and improvements.
Source :